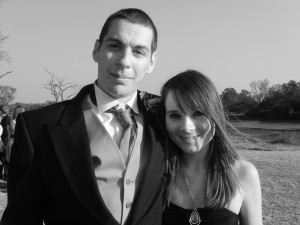 We are a Christian married couple in our twenties, living and working in Harare, Zimbabwe (along with sleeping, eating, breathing and loving Jesus!)
Anthony runs his own IT business, Somerset Technical Solutions
Anthony enjoys playing racing (the car variety) games, watching motorsport, playing badminton, swimming and best of all, hanging out with his wife!
Marie works for herself from home in the position of Full Time Mom & Wife.

In her spare time she likes to play tennis and squash, cook, hang out with her husband and watch the Friends!
We recently made the move from London, UK to Harare, Zimbabwe and enjoying the warmer climates and parenthood and we are now very much stuck into a local church called ONE Church.
Ronnie was added to the Somerset clan on 22nd January 2013 and currently prefers to sleep, eat, poo and smile.