end of my first day of setup (almost) its been a struggle of a day. started at 8 am after a hearty newday breakfast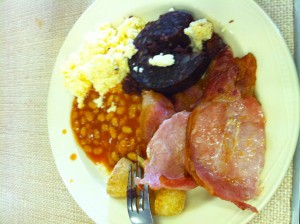 got straight to work on getting everything ready to print our main run of server badges – downloading photos, batch processing them into right size etc. without going into boring detail, what should have been a task that only took an hour to 2 max just to print the badges out took a whole 8 hours including working through lunch to coax into life.
its a good job we had today to prep and print the first batch (those that bothered to upload photos) it would have been a whole different ball game if we were doing this tomorrow when a lot of the main event servers were arriving. after that we got efficient and got the full print batch printed, cut, laminated and punched within 2 hours – even with 100 reprints!
all leading on to a nice relaxing dinner (wont post the photo!) and a peaceful evening to moan about slow internet. praying that they have the wifi enabled back at the agricultural college and that the room doesnt smell of paint this evening. going to sleep well i hope.